As a student, balancing academic responsibilities with personal well-being is crucial for success. The demands of coursework, exams, and campus life, in general, can be overwhelming. That's why it's essential for students to take regular breaks and engage in recreational activities, and we're not just talking about fun nights out.
Nottingham, with its vibrant atmosphere and perfect location in the heart of England, offers a plethora of opportunities for students to unwind and explore. In this article, we'll delve into the best student getaways from Nottingham, ranging from day trips to longer excursions. Whether you're seeking a brief escape from campus life or a post-term adventure, Nottingham is a great base.
Why students need downtime
Being a student involves juggling numerous responsibilities, including attending classes, completing assignments, and participating in extracurricular activities. However, it is important to recognise the importance of downtime to recharge your mental battery and to ensure you're looking after your wellbeing and mental health as a student.
Continuous focus on academic tasks can lead to burnout, diminishing productivity and motivation. By taking time off and engaging in leisure activities, students can rejuvenate their minds, enhance concentration, and approach their studies with renewed vigour.
Moreover, exploring new places and venturing beyond the confines of the university campus opens students up to new experiences and perspectives. Travelling, even within the local region, exposes students to different cultures, traditions, and ways of life. This exposure cultivates cultural awareness, broadens horizons, and fosters personal growth, all of which are integral to a well-rounded education.
Great places in Nottingham to spend a day
Nottingham is brimming with exciting places that are perfect for a day trip. Here are some top student-friendly destinations within Nottingham itself:
Nottingham Castle
A historic landmark offering stunning views of the city, Nottingham Castle is a must-visit. Explore the museum and art galleries inside, delve into the city's history, and wander through the beautiful gardens surrounding the castle. It's easy to spend a day here.
Wollaton Hall and Park
This picturesque Elizabethan mansion and its expansive parkland provide a serene escape from the bustling city. Take a stroll through the park, spot deer, visit the Natural History Museum inside the hall, or simply relax and have a picnic in the tranquil surroundings.
Nottingham Contemporary
Art enthusiasts will find delight in this modern art gallery showcasing a diverse range of exhibitions and installations. From contemporary artworks to thought-provoking displays, Nottingham Contemporary offers a vibrant space for artistic exploration.
National Justice Museum
Step into the world of crime and justice at the National Justice Museum. Housed in Nottingham's historic courthouse and gaol, this interactive museum allows visitors to immerse themselves in the captivating stories of crime and punishment throughout history.
The best day trips from Nottingham for students
While Nottingham itself has much to offer, venturing beyond the city limits opens up a world of exciting day trip possibilities. These day trips provide students with the opportunity to experience different aspects of history, nature, and culture while taking a break from their daily routines in Nottingham. Whether exploring the lush woodlands of Sherwood Forest or immersing oneself in the vibrant atmosphere of nearby cities, these destinations offer a wealth of experiences and memories for students seeking an enriching day trip. Not to mention, there are lots of interesting places to visit near Nottingham that are relatively easy to get to.
Here are our favourite nearby destinations that are easily accessible from Nottingham:
Sherwood Forest
Just a short journey from Nottingham lies the legendary Sherwood Forest, home to the iconic Major Oak and the legendary tales of Robin Hood. Explore the ancient woodland, go on guided walks, and discover the folklore and history associated with this enchanting forest.
Derby
Located a stone's throw away from Nottingham, Derby offers a mix of cultural attractions and shopping experiences. Visit the Derby Museum and Art Gallery, explore the Cathedral Quarter with its independent shops and cafes, or enjoy a leisurely walk along the scenic River Derwent.
Lincoln
Travel to the historic city of Lincoln and marvel at its stunning architecture, including the iconic Lincoln Cathedral and Lincoln Castle. Wander through the charming medieval streets of the Bailgate area, visit the Museum of Lincolnshire Life, and enjoy panoramic views from the castle's towers.
Leicester
With its rich history and diverse culture, Leicester is an intriguing destination for a day trip. Explore the King Richard III Visitor Centre, visit the New Walk Museum and Art Gallery, or immerse yourself in the vibrant atmosphere of the Golden Mile, known for its multicultural food and shopping.
Easy student weekend trips away from Nottingham
If you have a free weekend and want to venture a bit further from Nottingham, there are several exciting destinations within easy reach. These weekend getaways provide students with the chance to escape the confines of Nottingham, indulge in new experiences, and create lasting memories while still having enough time to relax and rejuvenate before returning to campus.
Consider these weekend getaway options:
Peak District National Park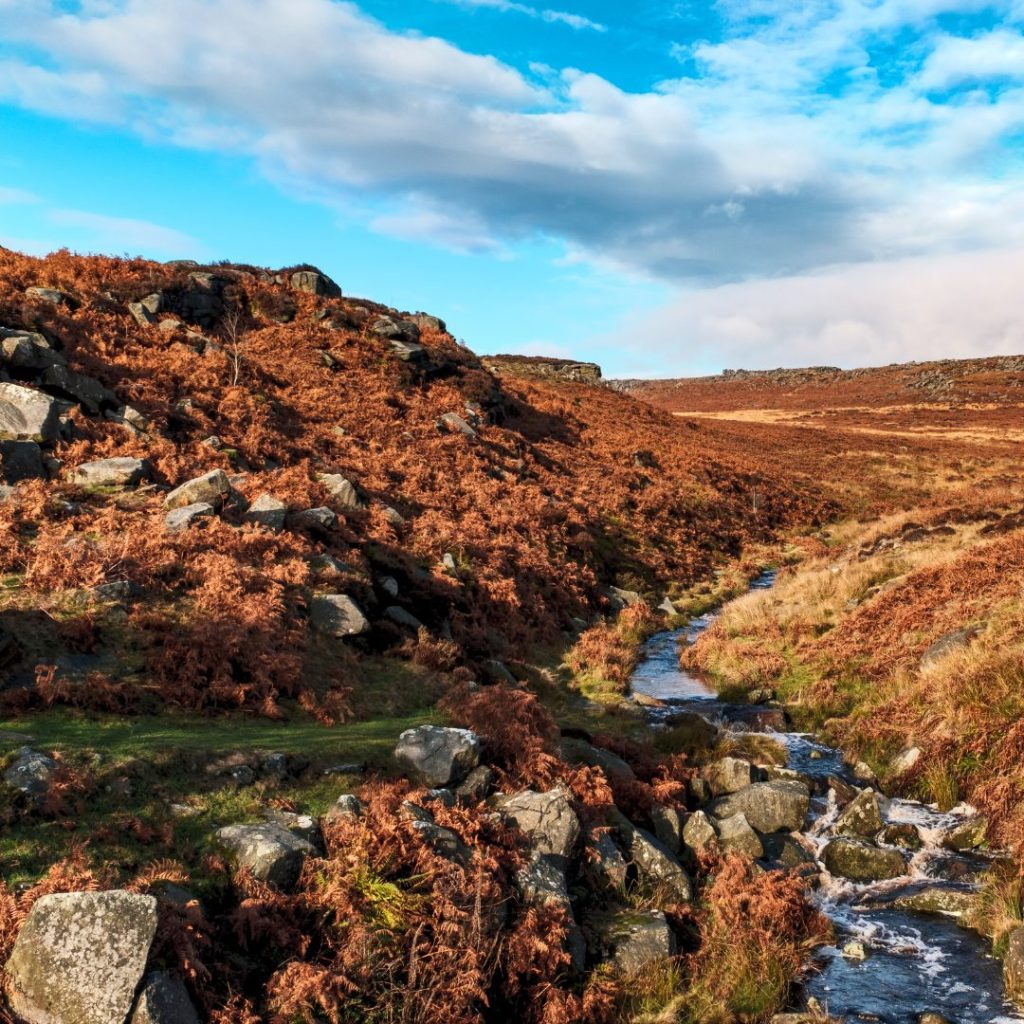 Just a short drive from Nottingham, the Peak District offers breathtaking landscapes, charming villages, and outdoor adventures. Hike along scenic trails, explore picturesque towns like Bakewell (don't forget to eat an original Bakewell tart there!), or try your hand at rock climbing or caving.
Birmingham
As England's second-largest city, Birmingham is a bustling metropolis with a vibrant cultural scene. Visit world-class museums and galleries, shop in the Bullring, enjoy live music in Digbeth, or explore the fascinating Cadbury World.
York
Step back in time and immerse yourself in the medieval charm of York. Discover the iconic York Minster, walk along the city walls, wander through the historic Shambles, and delve into Viking history at the Jorvik Viking Centre.
Cambridge
Known for its prestigious university and picturesque setting, Cambridge is a city filled with academic heritage and architectural splendour. Take a punting tour along the River Cam, explore the colleges, and visit the Fitzwilliam Museum.
Student getaways & holidays: Travelling abroad from Nottingham
For students looking to venture beyond the borders of the UK, Nottingham is conveniently located near several airports, offering easy access to international travel. When planning international getaways, students can take advantage of student discounts, affordable travel deals, and budget-friendly accommodation options to make their trips more accessible and affordable. It's a chance to embrace new cultures, broaden your horizons, and create lifelong memories while studying in Nottingham.
Here are some popular destinations for students travelling abroad or looking for a getaway from Nottingham:
Amsterdam, Netherlands
Known for its picturesque canals, historic architecture, and vibrant culture, Amsterdam is a favourite among students. Explore world-class museums, rent a bike to navigate the city like a local, and experience the lively nightlife.
Paris, France
The "City of Light" needs no introduction. From the iconic Eiffel Tower to the Louvre Museum and charming neighbourhoods like Montmartre, Paris offers a wealth of cultural and artistic experiences.
Barcelona, Spain
With its stunning architecture, golden beaches, and vibrant atmosphere, Barcelona is a dream destination for many students. Visit Gaudí's masterpieces, stroll along Las Ramblas, and indulge in delicious tapas.
Dublin, Ireland
Experience Irish hospitality and charm in the capital city of Dublin. Immerse yourself in history at Trinity College, enjoy the lively pub culture, and explore the stunning landscapes of the countryside.
Go and explore!
Ultimately, taking breaks and travelling from Nottingham allows students to find balance, foster personal growth, and create lasting memories. By stepping away from daily routines and immersing themselves in new experiences, students can return to their studies with renewed energy and perspective. Nottingham and its surroundings offer a wealth of opportunities for student getaways and trips, ensuring that every student can find the perfect escape to enrich their university journey.
Study Inn loves to see our students make the most of their university experience. We want your student life to be as fun and interesting as possible, and while Nottingham is an incredible city, travel and exploration are wonderful ways to make use of time between terms.
If you stay at Study Inn Talbot Street or Study Inn Triumph House in Nottingham, you'll have the perfect base from which to plan your travels. Plus, you'll feel right at home as our luxury all-inclusive accommodation has everything you need.
For more tips and advice, check out our picks for 'Fun things to do before graduating in Nottingham' or explore with your stomach in our 'Best places to eat as a student in Nottingham'.
Bon voyage!