Welcome to a city brimming with fun experiences! There are so many things to do in Nottingham for students. Nestled in the heart of England, Nottingham is renowned for its illustrious history, two world-class universities, and thriving cultural scene. As you embark on your student journey in this amazing city, there are countless adventures to be had and things to do in Nottingham for students before you don your cap and gown on graduation day. Study Inn has you covered so that you can make the most of your time in Nottingham as a student.
In this guide, we will take you on a virtual city tour, to highlight the must-visit destinations and best student experiences for you to relish before you bid farewell to Nottingham. Prepare to embark on a journey that will create lasting memories and enrich your university years. Let's dive into the myriad of fun things to do as a student before graduating. It's not just about fun nights out in Nottingham, there's more to this city than meets the eye!
Experience Nottingham's rich history (and legend)
As a student in Nottingham, the city's intriguing history awaits your discovery from the city's eponymous castle, an underground network of caves and an Elizabethan Hall that has been the set of many blockbuster films. While the city offers an impressive array of historical landmarks, it's also steeped in English folklore. Of course, we're talking about Robin Hood.
Nottingham Castle
This is an iconic landmark that sits atop Castle Rock and is a must-visit for any student. The Castle's history dates back to 1067 and it has borne witness to centuries of power struggles and pivotal events. Today, the castle serves as a museum and art gallery, housing a captivating collection of art and artefacts that reflect the city's rich heritage. And if history isn't your thing, don't miss the panoramic views of the city from the castle grounds, the ultimate selfie spot with a great view of your new home.
Nottingham Castle is also connected to the legend of Robin Hood through the character of the Sheriff of Nottingham, Robin Hood's main adversary. In the stories, the Sheriff is frequently trying to capture Robin Hood and his band, and Nottingham Castle is often portrayed as the Sheriff's stronghold. The castle and Sherwood Forest, along with several other locations in and around Nottingham, all feature in the tales of Robin Hood, making them must-see points of interest for visitors.
City of Caves
Step beneath the city streets and explore the City of Caves, a unique underbelly network of sandstone caves that dates back to the Dark Ages. These caves have served various purposes throughout history, from tanneries to air raid shelters during World War II.
Embark on a guided tour to uncover the fascinating secrets of these subterranean tunnels and experience a side of Nottingham which has been under your feet, all along!
Wollaton Hall
Film lovers rejoice! Not only is Wollaton Hall a stunning specimen of Elizabethan architecture which stands majestically amidst vast gardens and a deer park. But, this grand mansion has been used in countless films; it was used as Wayne Manor in "The Dark Knight Rises"! A right of passage for any film student or movie buff, you don't want to miss your chance to explore this incredible hall.
Its combination of Hollywood glamour and historical charm makes it an interesting place to explore. Inside, there's even a natural history museum, showcasing an extensive range of artefacts and exhibits which change throughout the year.
Delve into Nottingham's unique culture and music scene
With a bit of a reputation as an epicentre of art, music and culture, Nottingham also attracts students from other cities such as Leicester and Loughborough. The city is alive with vibrant art galleries, dynamic venues, and a thriving live music scene.
Motorpoint Arena Nottingham
This huge multi-purpose indoor arena is known for hosting big-name concerts and other live performances, including a range of popular music acts from around the world including Ed Sheeran, Katy Perry, Elton John, Lady Gaga, One Direction and The 1975, to name a few. With a capacity of approximately 10,000, the arena provides an exhilarating atmosphere for both performers and attendees.
Rock City
Opened in 1980, Rock City is an iconic music venue and club in Nottingham. Known for its intimate setting and amazing acoustics, it's a favourite among rock and indie fans throughout the UK and so it's the thing to do in Nottingham for students who love music. Over the years, Rock City has seen performances from many influential bands, including Nirvana, David Bowie, and The Cure, further solidifying its status as legendary.
Peggy's Skylight
If rock isn't your thing, maybe you prefer something a bit more refined? This venue is one for jazz lovers. Located in the heart of Hockley – arguably the coolest and trendiest area in Nottingham – Peggy's Skylight offers live jazz performances, along with a Middle Eastern-inspired menu. Its relaxed and stylish atmosphere makes it an ideal place for those who enjoy a sophisticated evening out.
Metronome
Metronome is a cutting-edge music and performing arts venue boasting a broad variety of performances including regular comedy nights. With state-of-the-art technology and a diverse range of events, from music and moving images to video games and virtual reality, Metronome provides an immersive experience for all attendees.
Malt Cross
This unique venue is a beautifully preserved Victorian music hall, one of only a few remaining in the country. Today, Malt Cross hosts a variety of events including live music, intimate gigs, open mic nights, and other live performances including comedy and craft workshops. The venue's historical charm adds an extra layer of enjoyment to any performance.
Theatre Royal & Royal Concert Hall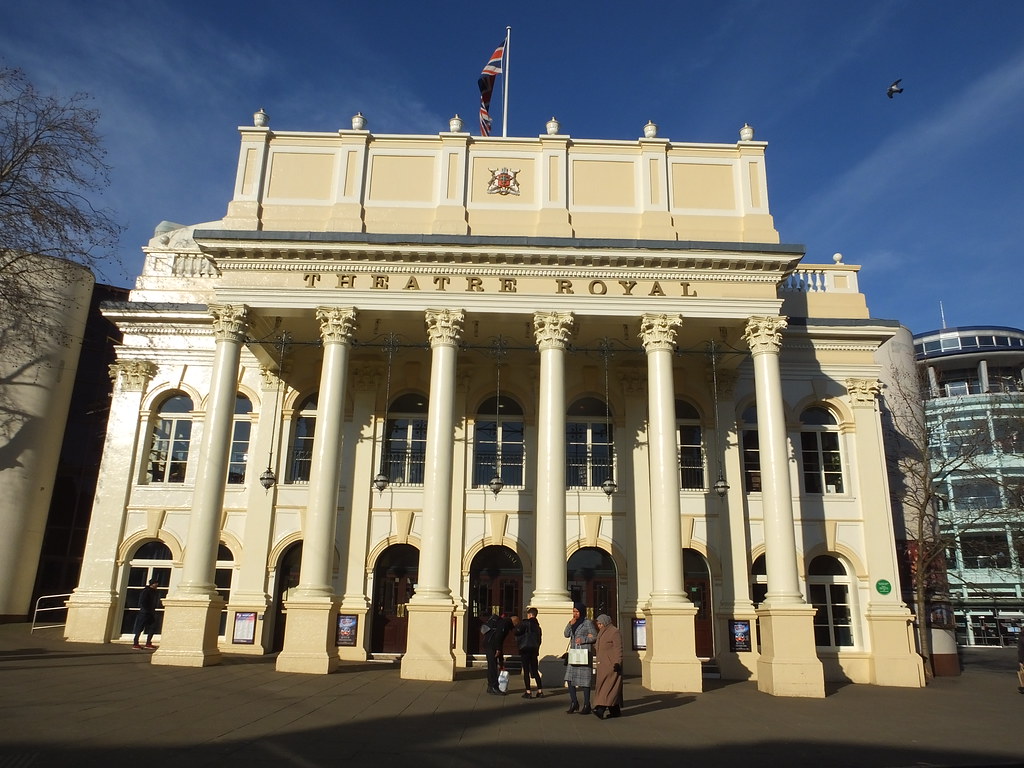 This historic venue in the heart of the city hosts a plethora of performances, ranging from thrilling dramas and captivating ballets to laughter-filled comedy shows. An electric atmosphere and stunning building make Nottingham's Theatre Royal & Royal Concert Hall an ideal location for a fun and memorable night out.
Nottingham Contemporary
Recognised as one of the largest contemporary art centres in the UK, Nottingham Contemporary is a testament to the city's dedication to art. It showcases an ever-changing roster of exhibits from international artists, promising a fresh and thought-provoking experience with every visit. With striking architecture and innovative programming, it's sure to captivate any art lover.
Explore the green spaces of Nottingham as a student
For those who love the great outdoors, Nottingham's green spaces offer a perfect escape from the hustle and bustle of student life. These idyllic locations are ideal for everything from leisurely strolls, picnics and revising for exams to engaging in sports activities or even a spot of bird-watching.
Arboretum Park
As the city's oldest public park, Arboretum Park provides a verdant oasis dotted with exquisite trees, a serene lake, and a charming bell tower. Its botanical collection and beautifully manicured gardens make it a wonderful spot for relaxation, runs and study breaks.
Highfields Park
Stretching over 52 acres, Highfields Park houses a picturesque boating lake, walking trails, and sports facilities. This park is perfect for picnics, recreational sports, or simply unwinding amidst nature.
Attenborough Nature Reserve
Just a short journey from the city centre lies the Attenborough Nature Reserve. And yes, this Nottinghamshire Wildlife Trust reserve gets its name from Sir David Attenborough himself, who was there to help open it in 1966. This tranquil sanctuary, nestled along the River Trent, offers a haven for wildlife and is perfect for bird-watching or long walks by the water to de-stress.
Take part in Nottingham's festivals and events
Immerse yourself in Nottingham's lively atmosphere by participating in some of the city's vibrant festivals and events. These communal experiences offer a wonderful way to engage with the local culture, make new friends, and create unforgettable memories.
Goose Fair
One of the city's most cherished traditions, the Goose Fair, has been an annual event for over 700 years and takes place in the first week of October every year. Originally, the fair marked the selling of geese to the local people but today it's quite different! This historic fair is a riot of colour, music, and enticing aromas with thrilling fairground rides and games to a variety of food stalls. The Goose Fair offers a taste of authentic local Notts culture.
Nottingham Festival of Science and Curiosity
This engaging event is a celebration of the scientific wonders that surround us. Interactive workshops, fascinating talks, and hands-on exhibits and experiments make the festival a thrilling learning experience that appeals to all, regardless of their age or level of scientific knowledge.
Riverside Festival
Celebrated in summer along the scenic banks of the River Trent, the Riverside Festival is the city's largest free festival. It features live music, a bustling market, exciting fairground rides, and a spectacular firework display, promising a delightful time for all attendees.
Hockley Hustle
This is an annual music and arts festival held in the Hockley area of Nottingham. It was founded in 2006, and since then, the festival has grown to become a cherished event in the city's cultural calendar, known for its vibrant showcase of local, national, and international talents across a variety of genres.
The festival takes place in multiple venues across Hockley, from bars and clubs to churches and outdoor stages. Attendees can enjoy a wide range of performances throughout the day, with events featuring rock bands, solo singer-songwriters, DJs, choirs, and more. In addition to music, the festival also often includes art workshops, comedy shows, spoken word performances, and activities for children.
Explore Nottingham's culinary scene
We know that eating as a student gets a bad rep. But it doesn't have to be beans on toast and noodles every night! Delight your palate by exploring Nottingham's rich culinary landscape from time to time. From bustling markets offering fresh local produce to award-winning restaurants serving international cuisines, Nottingham's food scene is a treat for food lovers. So, get ready to embark on a gastronomic journey that complements your academic adventures.
Visit Nottingham's Markets
Experience the colours, sounds, and smells of Nottingham's vibrant markets. Visit the Victoria Centre Market or the Nottingham City Market to find fresh local produce, unique handmade goods, and a variety of international food stalls.
Take a Food and Drink Tour
This is a great way to get to know your new city and discover some of the best places to eat in Nottingham. Join a guided food and drink tour to discover the best of Nottingham's food scene. Visit popular establishments, discover hidden gems, and learn about the city's food history along the way.
Check out independent coffee shops
Nottingham has a thriving coffee scene with many independent coffee shops such as Café Sobar, 200 Degrees and Cartwheel Coffee offering expertly brewed coffee and delicious pastries.
Dine at Restaurant Sat Bains
Pre-book a celebratory graduation dinner with your family at this two Michelin-star restaurant for a memorable Nottingham dining experience. Run by renowned chef Sat Bains, the restaurant offers a creative menu inspired by local ingredients and Nottingham's culinary heritage.
Unusual things to do in Nottingham before your graduate
Venture off the beaten path and discover some of Nottingham's hidden treasures. These unique experiences offer a different perspective of the city and are sure to add a dash of adventure to your student life.
Caves Pub Tour
This is the Caves tour with a difference and is one of the must-do student activities in Nottingham! Experience Nottingham's history with a twist on a pub tour that takes you to historic caves converted into quirky pubs, such as Ye Olde Trip to Jerusalem (allegedly one of the oldest inns in England) and The Hand and Heart. These unique pubs offer an atmospheric setting for a night out with friends.
Galleries of Justice Museum
At this fascinating museum, history meets the paranormal. Learn about Nottingham's criminal past, participate in interactive courtroom experiences, and if you're brave enough, join a ghost tour.
Green's Windmill and Science Centre
Visit a working windmill once owned by the father of famous mathematician George Green. Explore the mill, delve into its operations, and engage with science exhibits at the accompanying centre.
Canal Boat Adventure
Rent a narrowboat and journey along Nottingham's scenic canals. It's a unique way to view the city's architecture and green spaces, making for a tranquil and memorable adventure.
You're now an honorary Nottinghamian!
Now you know where to go and what to do in Nottingham as a student, you can explore it like a local! We hope this list of things to do before graduating from Nottingham has given you some inspiration. As you prepare to graduate and leave this amazing city, make sure to take full advantage of the unique opportunities that it presents. Immerse yourself in its rich heritage, soak up its culture, and let your curiosity lead you off the beaten path. Create a tapestry of memories that you will cherish long after you've tossed your graduation cap into the air.
The clock is ticking, and an exciting journey awaits you in Nottingham. So, pack your bags, gather your friends, and get ready to embark on an adventure that will shape not just your student years, but your life.
And if you've yet to visit or you're looking for luxury all-inclusive student accommodation for the ultimate student experience in Nottingham, why not get in touch and learn more?