Leicester is an exciting student city nestled in the heart of England's East Midlands. If you're new to student living in Leicester, whether travelling from elsewhere in the UK or from further afield, getting from A-to-Z might be a little tricky. Fortunately, this guide is all about the thing that keeps this city moving: public transportation. So, whether you're commuting to university, uncovering hidden gems across the city, taking a day trip from Leicester or simply tackling everyday tasks, Study Inn has you covered, let's explore this incredible city together!
Bus travel for students in Leicester 
With two fantastic universities in Leicester including De Montfort University (DMU) and The University of Leicester, that's a lot of students commuting meaning you'll likely require bus travel or public transport at some point. Fortunately for Leicester students, the city has an extensive network of buses, making it easy and convenient to travel within and around Leicester.
Bus travel is an affordable and efficient way to get around the city. Whether you're a student, a commuter, or a tourist, Leicester's buses are a great way to explore the city and its surrounding areas. In this section, we will explore some of the key aspects of bus travel in Leicester, including bus fares for students, payment methods, and the Leicester Park and Ride service.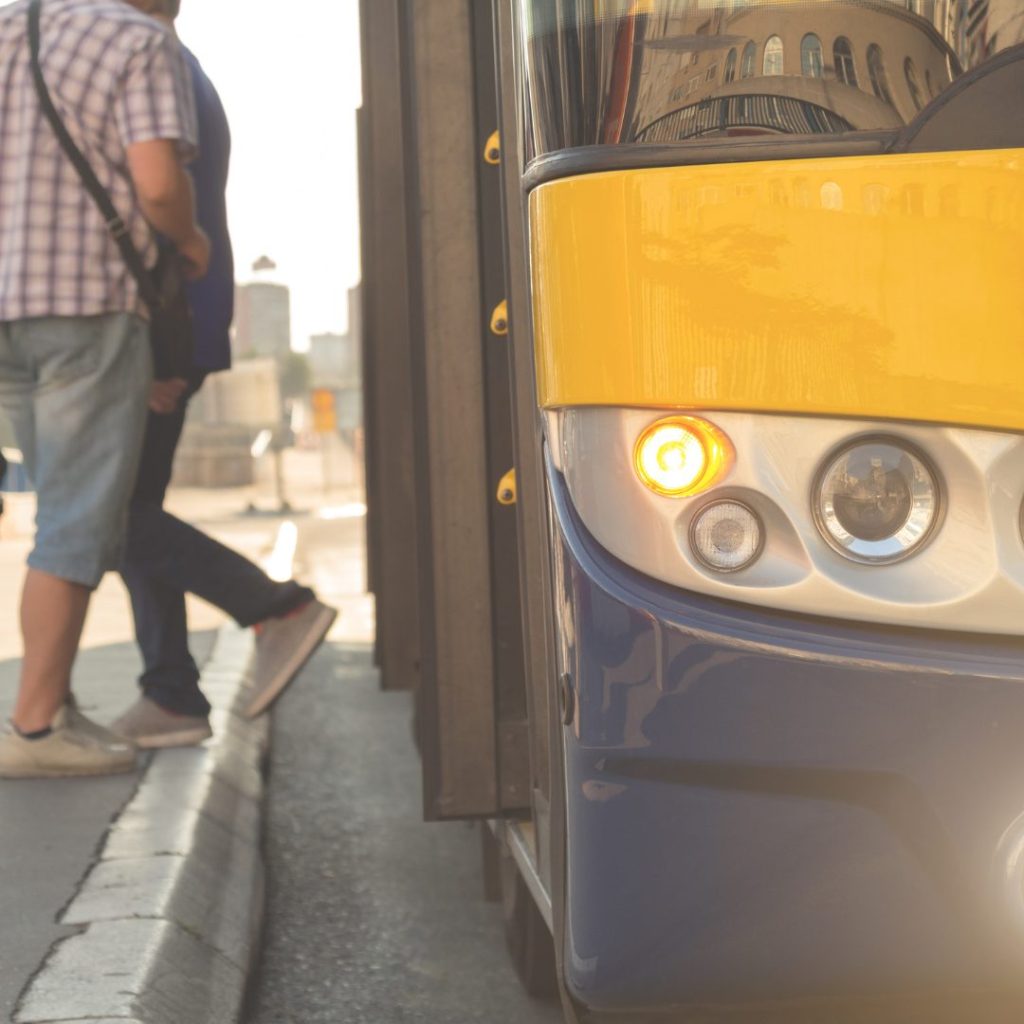 Bus fares in Leicester for students
Students in Leicester can enjoy discounted bus fares when they travel on local buses. To be eligible for the discounted fares, students must have a valid Student ID Card, which they will need to show when purchasing their smart pass. The discounted fare is usually around 30% cheaper than the regular adult fare, making it an affordable option for students on a tight budget.
Leicester Student Tickets
Prices accurate as of Aug 2022

Student 10 TripThis ticket covers 10 single journeys to use whenever you need them, ideal for those students who live within walking distance of their chosen university.
Note: this ticket is available exclusively on the First Bus App.
£20.00

Student MonthThis ticket gives students unlimited travel across Leicester for one month. You can purchase this ticket via the App or at the First Bus travel shop.
£52.80

Student 3 MonthsThis ticket will grant you unlimited travel across Leicester for a total of 3 months. Like the month pass, it is available to purchase via the App or First Bus travel shop.
£158.40

Student 6 MonthsThe 6 month ticket gives students unlimited travel across Leicester for 6 months. It is available to purchase via the First Bus App or at the First Bus travel shop.
£303.00

Student Annual PassThis includes unlimited travel across Leicester for a single year and is available to purchase via the App or at the First Bus travel shop.
£484.00
It's worth noting that the discounted fares are only available on local buses operated by certain bus companies, so it's important to check with the specific company to find out if they offer the discount.
Overall, students in Leicester can take advantage of the discounted bus fares to get around the city without breaking the bank. It's a great way to save money while still being able to explore all that Leicester has to offer.
Payment methods on Buses in Leicester
There are several payment methods available for bus travel in Leicester. If you're not taking advantage of student discounts then one of the most convenient ways to pay for bus travel is with a contactless card or mobile payment. You can now pay via an app, too.
Most buses in Leicester are equipped with contactless payment machines, allowing passengers to pay for their journey quickly and easily without the need for cash. However, it's always a good idea to carry some cash with you as a backup, in case the contactless payment machines are not working.
Other payment options include buying a ticket in advance from a local shop or buying a ticket from the bus driver when you board the bus. It's worth noting that buying a ticket in advance can often save you money compared to buying a ticket on the bus.
Leicester Park and Ride
If you drive, then Leicester's Park and Ride bus service is a great option for those who want to avoid city centre traffic and parking fees. The service operates from three different locations around the city, allowing passengers to park their cars for free and then take a bus into the city centre.
The Park and Ride service runs every 10-15 minutes during the day, and every 20-30 minutes in the evenings, making for a convenient and stress-free journey into the city centre whether you're meeting a friend in the city or heading to a lecture.
Of course, while parking is free at the Park and Ride locations, there is a small charge for the bus journey. The cost of the journey is around £3.50 for a return ticket, making it a super affordable option.
Bus timetables
If you're planning on using the bus to get around Leicester, it's a good idea to plan your journey in advance and check the timetable for your chosen bus route. You can find timetable information and route maps on the websites of the major bus companies operating in Leicester.
Train travel in Leicester
Leicester is well-connected to other parts of the country by train. The city has two main train stations, Leicester station being the main one and South Wigston station, a bit further out. Both of which are operated by East Midlands Railway. Leicester station is the larger of the two and is located in the city centre, while South Wigston station is situated in the south of the city and serves local areas.
From Leicester station, passengers can travel to various destinations across the country, including London, Birmingham, Nottingham, and Sheffield so you can make weekend getaways or day trips from Leicester with ease.
Student train fares in Leicester
East Midlands Railway make it affordable for students to travel by train with their 16-25 Railcard. Don't panic, if you're a mature student because this railcard is also valid for you too as long as you're in full-time education. The pass grants you access to cheaper fares on off-peak, standard class journeys as well as Advance tickets.
Overall, the train system and reduced fares in Leicester make it a convenient and reliable mode of transportation for students. With frequent services and access to major destinations across the country, it is a great way to get around Leicester and beyond.
Driving in Leicester as a student
You can't beat the freedom of driving a car, motorcycle or moped. Not only can you travel further afield, you don't necessarily need to worry about timetables or missing the last bus or train. That said, what you gain in freedom, you lack in money due to steep petrol prices and running costs. Then there's parking…
Parking in Leicester
Parking in Leicester can be a challenge, particularly in the city centre where demand for parking spaces is high. However, there are several options available for those who need to park their vehicles. These include on-street parking, car parks, and parking garages.
While there are currently no student parking schemes or discounts available, you can apply for student parking permits via the Leicester City Council website. This is a permit for students living in a resident parking zone within eligible areas of the city. It acts like the parking permits available for permanent residents. However, you will need your student ID and several forms of identification to apply.
On-street parking is available in various parts of the city but can be expensive and hard to find. Car parks and parking garages are available throughout the city, and rates vary depending on the location and time of day.
Uber and taxis in Leicester
Uber allows users to book a ride using their smartphone and it's available right here in Leicester. Simply, download the Uber app and request a ride to wherever you wish to go. The service is a convenient and affordable way to get around the city, particularly for those who do not have access to a car or prefer not to drive. However, there are also alternative ride-hailing services available in Leicester, such as Ola and Bolt.
An average taxi ride in Leicester is between £4-6 within the city centre. The taxi fare between The University of Leicester to Leicester Station will cost you roughly £5 and only takes 3-4 mins.
If you're staying at Study Inn Reynard House, we'll have contact details of all of the reputable taxi companies in the city so that you don't need to worry.
Leicester's OneCard scheme
By far, one of the best new ways to get around Leicester is with a OneCard. The new OneCard scheme is unique to Leicester and Leicestershire and is essentially a smartcard which stores prepaid bus travel passes or Bike Park membership. This means you only have to tap your card when boarding a bus or accessing Leicester's Bike Park.
The bus operators currently participating include: Arriva, First, Centrebus, Hinckleybus, Kinchbus and Stagecoach. The Flexi Weekly pass costs £20 for unlimited travel throughout Leicester via the bus services and includes access to the Bike Park if you prefer to cycle.
Stay in the city centre and live your best pedestrian life
Leicester is a bustling city that offers affordable fares for students and makes navigating the city stress-free. While the city does have a well-connected train system and several bus routes that make getting around easy, sometimes the best way to explore a city is to walk. Not to mention, parking can be a challenge, particularly in the city centre.
Whether you are looking to explore the city's historic landmarks, go to a Leicester Tigers match, or simply enjoy some shopping, staying at our city centre luxury student accommodation is the ultimate transportation option. Located in the heart of Leicester, most major landmarks are a short walk away.
Plus, it's a great way to keep fit in Leicester, as there are lots of picturesque places to walk. Why not enjoy a pleasant stroll getting to know your new local neighbourhood with an iced coffee from Merchant of Venice in hand.
Why not learn more about Study Inn Reynard House and get ready to live your best student life!