When you're exploring options for studying in the UK, there's no doubt that a few specific cities almost always come to mind. (We're looking at you, Oxford, London and Cambridge!). But why not seek out a unique student living experience in a lesser-known part of the UK? Introducing: Exeter. Exeter is a beautiful city in Devon, located in the South West of England, that made our most fun student cities list and is also highly rated for its affordable student living options. Known for boasting an excellent university, supportive community, and rich cultural life, Exeter offers a unique and enriching experience for international students from all over the world.
Is Exeter a good choice for international students?
Yes! Exeter is an excellent choice for international students from all over the world and is a fantastic alternative to other major cities in the UK. The University of Exeter's prestigious status as a Russell Group university is part of the reason it's such a popular choice, and while it may not be as internationally famous as some others in the same nation, this university is known globally for its high-quality research and teaching.
There are four campuses for the University of Exeter, with locations at Penryn and Truro in Cornwall, and Streatham and St Luke's in Exeter. For those thinking about the Exeter city campuses, rest assured this friendly cityscape is safe, welcoming, and full of opportunities to explore British culture and history while enjoying beautiful natural surroundings and coastlines.
The University of Exeter: International student statistics

There's no doubt that international students are an integral part of the Exeter community, both within the university itself and across the city, and contribute to the dynamic and multicultural atmosphere on campus. Let's look at the numbers.
How many international students are there in Exeter?
What makes Exeter an ideal city for international students?
We've rounded up some of our top reasons why Exeter is a perfect destination for overseas and international students, from both a university and city perspective.
#1 High-quality academic education
The University of Exeter attracts teaching talent from all over the world. Lecturers, professors and staff are highly knowledgeable experts in their respective fields, some even leading global research on climate and sustainability. Study here and you'll reap the benefits of this well-respected and high-quality academic educational institute and experience exceptional teaching and academic support to help you succeed in your studies.
Exeter also offers a wide range of courses across various fields (around 210 undergraduate courses and 220 postgraduate courses!). This provides international students with plenty of options for pursuing their academic interests. The university's facilities are modern and well-equipped, ensuring that overseas students have everything they need to succeed in their studies.
#2 Excellent support for the international community
The university works hard to make sure international students feel safe and at home. It offers a range of services designed to help you adjust to life in the UK, from orientation programs to help you get to know the campus and find your way around the city easily, to English language support, to student wellbeing services like counselling.
It can sometimes be lonely navigating a new city as an international student. However, there are many student societies, including country-specific groups, where students can meet peers from their home country or other parts of the world. The University of Exeter organises Intercultural Cafe events during term times with opportunities to make friends, play games and enjoy regular talks on overseas education experiences and English Language tips!
#3 Global career opportunities
The University of Exeter has strong connections and partnerships with global institutions and businesses around the world. This can provide opportunities for international exchanges, internships, and collaborative projects. The university has a career service, available to all students and can help you find internships and jobs, both in the UK and internationally.
After you graduate, you'll also become part of Exeter's global alumni network which is a valuable resource for your future career. The university was also a founding member of the British Council network, Alumni UK. This is a dedicated group for alumni who have studied as an overseas student in the UK.
Notable international alumni
Sheikh Sultan bin Muhammad Al-Qasimi, Sovereign ruler of the Emirate of Sharjah
Former Hong Kong Government official and Secretary for Home Affairs, Lau Kong-wah
Prominent Malaysian lawyer and human rights advocate, Ambiga Sreenevasan
Linah Mohohlo, the first female Governor of the Bank of Botswana
Former Turkish Prime Minister, Abdullah Gül
Infanta Elena the Duchess of Lugo
Charles Njonjo, who served as Attorney General of Kenya
Benefits of living in Exeter for overseas students
If the reasons for studying at the university weren't enough, here are some additional benefits to being an international student living in Exeter.
A rich history and culture to explore
Exeter's rich history is visible everywhere you look in its ancient walls, medieval buildings and Gothic architecture like Exeter Cathedral. Experience the UK's unique history and enjoy it as part of your everyday student life. The city also hosts various cultural events and festivals throughout the year celebrating diversity through music, food, and art. These events are fun opportunities to experience local traditions and meet new people.
A small but bustling city
The city might be small but you certainly won't run out of things to do because there is always something happening and plenty to do. Exeter has a thriving social scene where you can experience British art, music and entertainment. From cinemas, theatres, galleries and museums to fantastic nightlife options, full of lively music courtesy of some great venues like the Exeter Cavern.
Exeter also has all the amenities you'll need, brimming with food and shopping options. Missing a flavour from home? Chances are you'll find it in Exeter, which is home to the South West's largest international supermarket! Stock up on products from all over including Chinese, Indian, Malay, Nigerian, and more.
Beautiful natural surroundings
Located near stunning natural landscapes, including beaches, national parks, and the Jurassic Coast, a World Heritage Site. These areas provide fantastic opportunities for outdoor activities, travel and exploration. International students can benefit from experiencing beautiful countryside, beaches, and parks.
Take a break from studying and enjoy Devon's natural beauty and breathtaking views and take some unique photos to show your loved ones back home. The city and university are also committed to protecting the environment and Exeter has multiple projects and green initiatives focused on sustainability.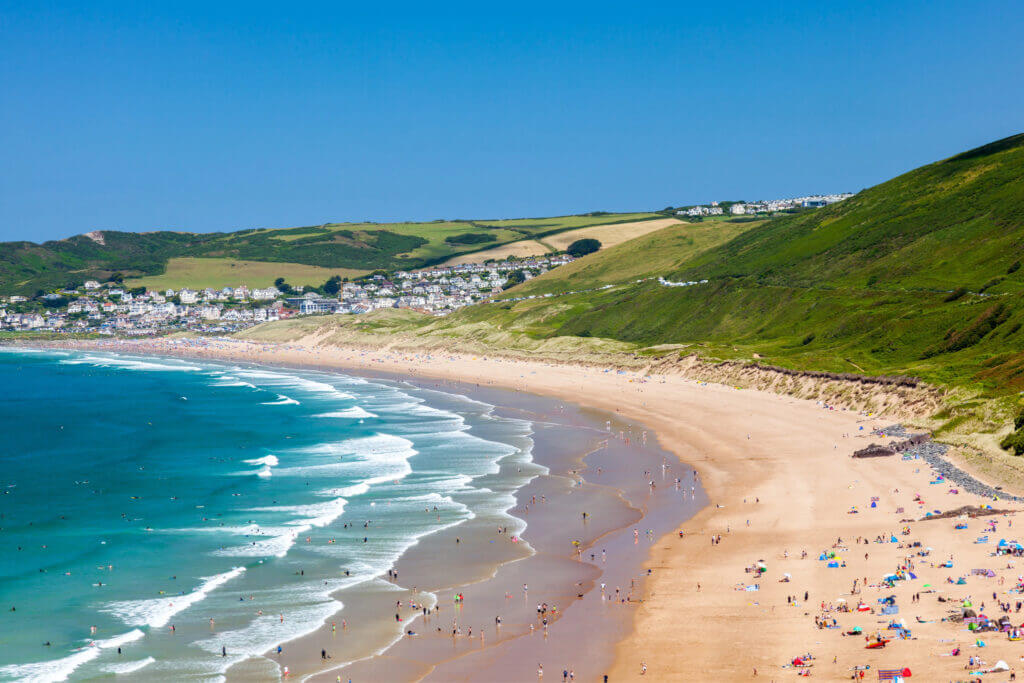 Travel opportunities
Travelling overseas to study has the benefit of additional travel opportunities! Whether you're looking to explore the UK's capital (which is only 2.5 hours by train), explore other UK destinations or check more European countries off of your bucket list, Exeter is well connected by rail and air. Exeter Airport has flights to Ireland, Greece, France, Spain, Turkey and even Lapland! Domestic flights to other major UK cities include Edinburgh, Glasgow, Belfast and more. Time to plan that next trip in between terms!
A welcoming home for international students
If you're making your mind up on whereabouts to live and study in the UK in the new academic year, Exeter really shines. This laid-back city offers a supportive local community, high-quality standards of education, and a wealth of cultural and natural attractions. The city's diverse student population and global outlook ensure that students from all corners of the world can feel at home and have the opportunity to thrive academically and personally.
Planning on studying in Exeter? Choosing a university is only one part of the decision, what about accommodation? From student halls to private accommodation, there are plenty of options, but if you're looking for all-inclusive, luxury accommodation just 8 minutes away from the Exeter campus, then check out Study Inn Walnut Gardens!