Choosing a university destination is a significant decision for any student, but for international students, there are additional things to consider when studying in the UK – such as the cost, if the university is globally recognised, and how welcoming the location is for overseas students. In the heart of England, one city which stands out as a popular choice among students from around the world is Leicester. This article explores what makes the city of Leicester an attractive destination for international students.

Key facts about Leicester's international student population

Leicester is home to a significant number of international students, contributing to the city's vibrant and cosmopolitan atmosphere.
Leicester has a strong reputation for being a stand-out UK university and every year it attracts students from all over the world with both main universities accepting lots of international students. This diversity enriches the city as both students and residents are exposed to different perspectives and cultures.
How many overseas students are at Leicester universities?
According to The University of Leicester, approximately 25% of on-campus students come from outside the EU, arriving from more than 70 different countries.
Data from the Higher Education Statistics Agency (HESA), states that 5,185 international students were enrolled at The University of Leicester for the academic year 2021/22.
As for De Montfort University, in that same academic year, 8,075 students from all over the world were enrolled. In total, that's over 13,000 overseas students!
Percentage of international students in Leicester
According to data from the ONS and Eurostat, population in the UK as of 2019, there are approximately 357,394 residents living in Leicester – given the data above on student numbers in Leicester, that means international students make up 3.7% of Leicester's population!
It's not just the student population that is highly international, either – the last census revealed that 151,492 residents in Leicester were born outside of the UK.
Is the University of Leicester popular for overseas students?
Leicester University stands out for its exceptional work in astrophysics, medicine and history, attracting students worldwide. With state-of-the-art facilities and world renowned leading experts, the university excels in space research and astrophysics, contributing to major space missions and celestial explorations.
Leicester Medical School, a part of the university, is recognised for its advancements in cancer treatments and regenerative medicine, providing immersive, real-world medical training from the first year. The university also boasts prestigious archaeology and history departments, known for significant discoveries such as the remains of King Richard III.
In addition to its academic strengths, Leicester offers an exhilarating student life with lots of clubs, societies, and community engagement opportunities, supported by the city's rich cultural scene and heritage landmarks. All these factors make Leicester an accessible and popular choice for international students.
Tuition fees for international students
Course costs for international students are very affordable depending on your course, between £9,250 and £22,600. There's also a scholarship programme for international students.
Why do international students choose De Montfort University?
De Montfort University (DMU) in Leicester stands out as a top academic choice for international students too, offering a rich array of courses and renowned research centres, all within a supportive learning community. With its competitive tuition fees and a variety of scholarships tailored for international students, DMU presents an affordable option for quality education.
The university's dedicated international student team ensures that foreign students receive the necessary support, from visa guidance to accommodation advice, fostering a welcoming international community. Campus life at DMU is always exciting, situated in the heart of Leicester with access to all essential facilities and a chance to immerse in a diverse, multi-ethnic community. Furthermore, DMU's commitment to high teaching standards and personalised learning makes sure students are well-equipped for their future careers, as reflected in the university's impressive student placement rate.
Plus, the university hosts various Designated Learning Communities (DLCs), such as the International Student Community and the STEM community, offering students an opportunity to connect and thrive within smaller, interest-based groups.
How much does it cost for DMU international students?
International course fees for full-time study vary depending on the subject of study. For instance, Art, Design and Humanities, Business and Law are £15,250, whereas Engineering, Healthcare or Life Sciences can be up to £16,840. Full details are available on the university's international tuition fee page.
Similar to the University of Leicester, DMU has both undergraduate and postgraduate scholarship programmes available for international students to apply for.
Why international students love living in Leicester
International students studying at De Montfort University and The University of Leicester often report their love for the city of Leicester. From its location and how much there is to do to its diversity and welcoming atmosphere. We've rounded up some of these reasons.
1. Student cost of living in Leicester
Leicester is one of the most affordable study destinations when it comes to tuition fees and living expenses. Average student costs per month are around £900 per month, which is over £400 less than living costs in more expensive student cities like London. Leicester stands out as a budget-friendly option for international students in the UK, providing an economical alternative without compromising on quality. The living expenses in this city cater to various student budgets, depending on individual lifestyle choices. For those applying for a Student Visa, it's important to note that financial proof is required to cover not only the course fees but also living costs, for a comfortable student experience.
Leicester offers an array of affordable dining options, ensuring students can enjoy delicious meals without straining their budgets. From the bustling Leicester Market, known for its fresh and reasonably priced produce, to budget-friendly eateries like Gilly's Sandwich Bar and La Maison Cafe, there's something for everyone. On average, a meal in a modest restaurant costs about £15, significantly less than London and the national average.
2. Leicester's ethnic diversity
The city of Leicester is well known for its diverse and inclusive community, which makes it the perfect place for international students to feel comfortable. In fact, 41% of Leicester's residents were born outside of the UK, so students from all cultural backgrounds will feel well-represented, welcomed and embraced as part of the wider community.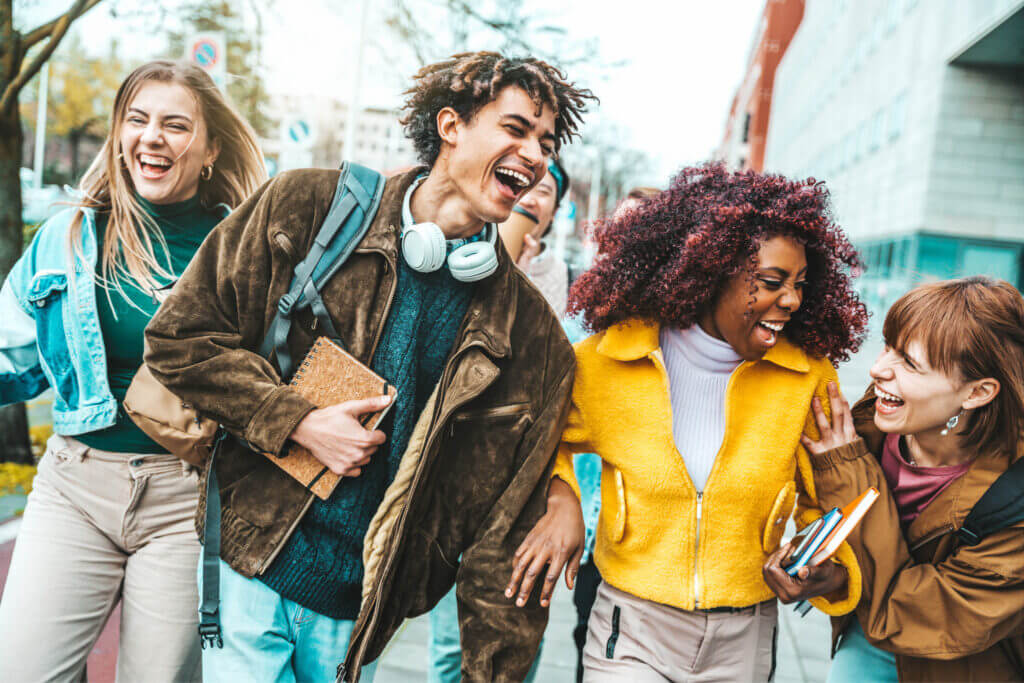 At the University of Leicester alone there are approximately 7,000 international students from over 70 countries. With this substantial number of international students already living in the city, newcomers to Leicester can find a supportive network to adjust to uni life in the UK. Leicester is steeped in history and culture, with the elusive King Richard III's remains being discovered in 2012 underneath a car park! There are regular multicultural celebrations such as annual Hindu and Caribbean festivals alongside the more traditional British festivals like Bonfire night and St George's Day.
3. Inclusive admission policies & support
The University of Leicester prides itself on its open and inclusive admissions, actively encouraging international students to become a part of their academic community. Their website serves as a valuable resource, offering tailored information for students from different countries, virtual campus tours, and crucial advice on practical matters such as setting up a UK bank account and finding a local doctor.
Similarly, De Montfort University extends a warm welcome to overseas students, presenting an array of helpful resources and guidance for those planning to study in the UK. Their support ranges from lifestyle and academic advice to offering airport pick-up services for students arriving at Heathrow, ensuring a smooth transition to university life.
Both institutions are clear about their admission requirements and actively seek to support international students through scholarships, a wide range of societies, and events tailored to meet the diverse needs of their student population, including groups specific to different countries.
4. Work opportunities in the UK
Leicester city is not just a great place to study; it also offers numerous opportunities for personal and professional growth and development. The job market is relatively good compared to other places in the UK, and the university's strong links with industries ensure that students have access to internships and work placements. Having practical work experience is brilliant as it means that students have a better chance of employability post-graduation.
5. Proximity to London & other travel opportunities
Studying at Leicester has the benefit of being relatively near to London; direct trains from Leicester to London only take 1 hour and 25 minutes! That gives students access to explore other UK destinations for a day-trip or getaway as well as easily travel to other European countries.
Not only are these great opportunities for travel, but for international students flying in from all over the world, it means Leicester isn't far from the major London airports like Heathrow, which makes travelling home between term times less stressful.
A home away from home for international students
Leicester stands out as a top choice for international students seeking a welcoming, diverse, and vibrant community to embark on their higher education journey. With affordable education and living costs, a thriving job market, and a rich cultural scene, Leicester has everything to support students' academic and personal growth. Add to this, The University of Leicester's commitment to inclusivity and strong international student support services and it's no surprise that this city is an attractive destination for students from around the world.
Heading to Leicester? Book your luxury student accommodation now to enjoy all the benefits of this amazing city.